Ratings & Reviews are shared and displayed between markets and languages and collected from online and offline.
With the help of TestFreaks' platform for Ratings & Reviews, Jula collects and displays customer feedback into their product detail pages to help its customers make informed and empowered buying decisions. Jula also collects and displays product images from its customers. User-generated content (UGC) plays an important part in Jula's overall UX. It starts already before the customer enters Jula's websites. Ratings (Rich snippets) are displayed in Google search results as well as in Google Ads.
"At Jula we want to motivate people to simplify their everyday life and build an active and fun life. We have developed a large assortment of carefully selected products for the home, the garden, and the spare time. Ratings & Reviews are important to us at Jula so that we can help our customers navigate, explore and find the right product." said Margareta Boström, business developer and insights manager at the Jula Group.
The flip side of Ratings & Reviews are Insights. Ratings & Reviews enable real insights into customer experience, revealing factors that are very difficult to uncover by other means.
R&R gives the customer a voice and provides a retailer with ways of measuring success in new ways. It provides for a greater understanding of the customer experience. Any customer that shops online or offline as a member of Jula Club can contribute with feedback. TestFreaks' platform supplies a wealth of data and insights that helps Jula to continuously improve the customer experience. Negative reviews can be used for deeper analysis to understand underlying patterns and areas of improvement. Positive reviews, high product ratings and NPS can give insight into which of your customers are your real promoters. Marketing programs can leverage and activate your hidden promoters and grow your business and reputation.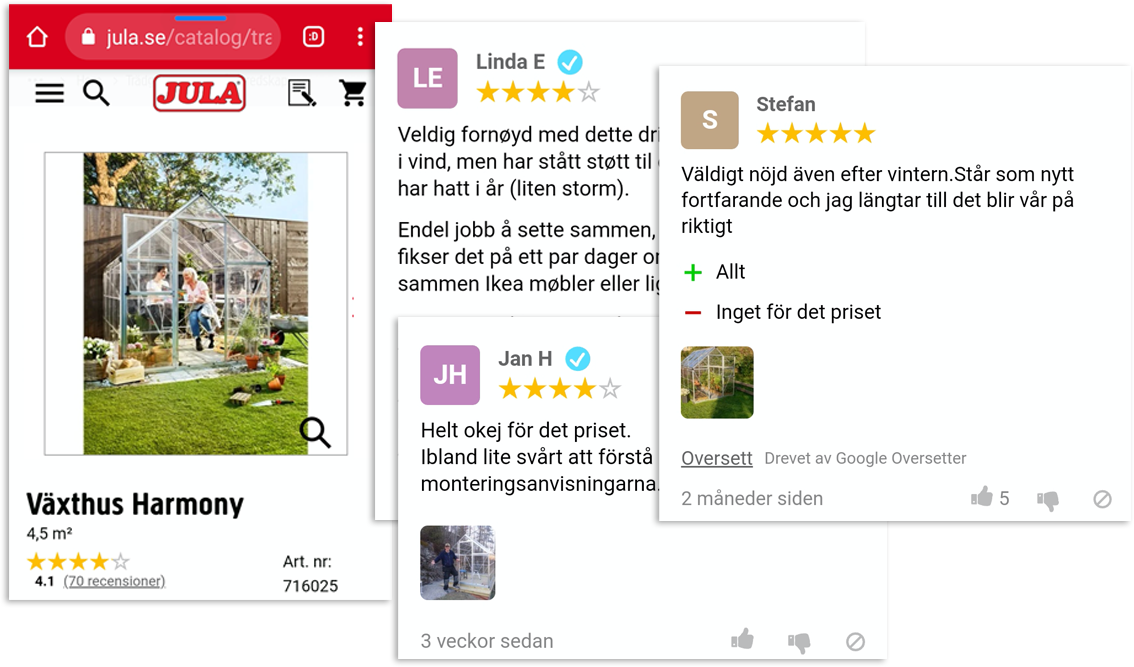 Increased coverage of R&R not only improves UX and conversion on the website, but it also has a major impact on visibility and traffic from Google.
With increased volumes of R&R comes a wider R&R coverage of the product catalog. This of course has a positive impact on the overall website and the UX, but it also has a substantial impact on the traffic from Google search results. A larger share of the product catalog with rich snippets in Google means more traffic. The same is true for star ratings in Google Ads. More products with ratings leads to better return on the Google Ads budget. R&R tend to be distributed between products based on visits or sales. However, with an optimized review collection program, collection can be boosted for key products, such as products with few ratings or newly launched products.