Clas Ohlson uses a 100% transparent approach to provide customers with honest, naked and relevant CGC throughout the customer journey.
Whether the customer journey starts at the Clas Ohlson website, or at Google Ads or Google's organic search results, customer generated content provide the customer with valuable information through the research process. In Google Ads and in Google's organic search results star ratings originating from the Clas Ohlson website are displayed. On the website, product ratings are displayed at the start page and category pages. At the product pages, ratings and reviews including pros & cons and the retailer's response and comments on reviews are displayed. The CGC module Questions & Answers, which Clas Ohlson has named "Ask the Expert", is also integrated on the product page.
Getting the most out of every valuable review. Sharing. Grouping. Matching.
Once you have realized how valuable customer generated content is to your marketing, to your customer's user experience, to business insight and development, you want to maximize the value of every review. The key to this is sharing. Clas Ohlson has with input from TestFreaks outlined an R&R strategy that is synched with the specific nature of Clas Ohlson's retail business and the company's overall strategy. Clas Ohlson shares reviews between product sizes and product variants where it makes sense. TestFreaks' software tools help with grouping and matching according to Clas Ohlson's preferences. The solution also shares R&R between markets and languages, and offer the user autotranslation where appropriate. Reviews are sorted and displayed in an optimized way to provide value and relevance to Clas Ohlson's customers.
"The people at TestFreaks help us understand what our customers value, how we can become more transparent, and improve our information, which are all key elements that have made us a trusted brand." said Dannis Nieuwpoort, Head of Customer Service at Clas Ohlson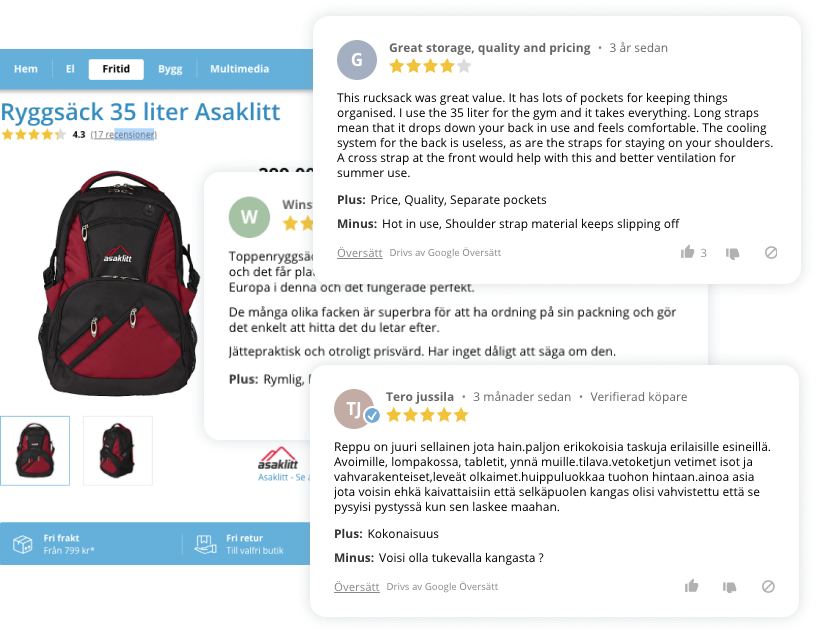 Shoppers who read reviews are more likely to buy, and the more reviews, the higher the impact of the user-generated content.
With the right tracking tool this strong insight is clearly visible through the monitoring of conversion metrics. If you can't provide relevant, transparent and trustworthy information at your website, chances are high that shoppers will leave your site to do research elsewhere. Providing high quality Ratings & Reviews and Questions & Answers is essential to avoid this.
"At Clas Ohlson we want to connect and inform our customers in the best possible way. TestFreaks have been instrumental with their advice and objectivity in this quest." said Dannis Nieuwpoort, Head of Customer Service at Clas Ohlson.